Categories:
Other Brands
Introducing the Gucci Sylvie Bag. The Sylvie was recently introduced for the brand's Spring/Summer 2016 Collection. It comes in three different styles, Top Handle, Shoulder Bag and Mini Chain Bag. The bag features a nylon web detail with gold toned chain and buckle on the middle of the flap. The interior is made of micro-fiber lining with suede like finish. The Mini Chain has a chain shoulder strap and grosgrain Web bow, while the Top Handle includes a detachable shoulder strap. The shoulder bag comes with two interchangeable straps, one in leather while the other one is made of multicolor ribbon.
Style, Price & Size
| Style | Price | Size |
| --- | --- | --- |
| Gucci Flame Sylvie Gucci Signature Top Handle Bag | $3,500.00 (USD) | 12.5" W x 8.5" H x 4.25" D |
| Gucci Sylvie Gucci Signature Top Handle Bag | $2,890.00 (USD) | |
| Gucci Smooth Leather Sylvie Top Handle Bag | $2,890.00 (USD) | |
| Gucci Snake Sylvie Shoulder Bag | $3,290.00 (USD) | 10" W x 6.75" H x 3" D |
| Gucci Sylvie Shoulder Bag | $2,490.00 (USD) | |
| Gucci Sylvie Mini Chain Bag | $1,950.00 (USD) | 7.5″ W x 5.5″ H x 3″ D |
Gallery
Tags: bag Gucci Tote Reference Sylvie
comnum(0) tbcount(0) tbcount(445)
Categories:
Other Brands
Chanel has released its Emoticon Flap Bag (CC Peace Cat Graphic Bag) not too long ago and now, we are seeing this cutie in a tote bag version which means a larger storage to keep up with your daily needs at work or while you're out and about enjoying a relaxing time at the beach.
Eclectic, charming and definitely an eye candy, the newest Emoticon Tote Bag is everything you could ever ask for in a tote bag! With its playful mixture of patterns, this bag is just too beautiful and lovely not to take a second look!
Take this tote bag with you anywhere you go as it can hold most of your things and not only your daily essentials. Better yet, this lovely is also a good companion at the beach as it can fit all your beach needs such as your wide brimmed hat, sunglasses, towel, and a good book to read.
Chanel Small Emoticon Shopping Bag
Style code: A69928
Size: 15.7′ x 14.6′ x 3.1′ inches
Price: $1600 USD, €1400 euro, £1190 GBP, $2230 SGD, $11700 HKD, $2260 AUD, ¥184680 JPY
Chanel Large Emoticon Shopping Bag
Style code: A69926
Size: 19.7′ x 17.7′ x 3.5′ inches
Price: $1800 USD, €1500 euro, $2390 SGD, $12600 HKD, $2430 AUD, ¥197640 JPY
Tags: bag Chanel Tote EMOTICON
comnum(0) tbcount(0) tbcount(263)
Categories:
Other Brands
Introducing the Celine Belt Bag. The Belt Bag was first introduced in Celine's Pre-Fall 2014 Collection. The bag has been included in Celine's most recent collections in new colors and have been also featured in various ad campaigns like the Celine Fall 2014 campaign and the Celine Winter 2014 ad campaign. The bag features a single top handle with front "belt" that knots in the front. The front flap is typically shown tucked behind the belt and can be hooked closed. There is an interior zipper under the flap to keep your items secure. The base features four metal feet and includes two interior pockets.

The Belt Bag debuted about a year ago with the brand's Spring 2015 collection, and although it regularly garners positive comments from readers and I've seen it on the arms of a handful of celebrities and bloggers, I just don't think the design gets its due for how attractive it is. It's great, you guys!

It may not be quite as distinctive as the Luggage Tote or Trapeze Bag, which both showed up on the market looking like nothing else available, but it's a solid day bag with the kind of luxuriously minimalistic look that's just begging to be photographed next to a vase of peonies for maximum Instagram likes. It doesn't look over-designed, and the long tails on the front belt give it just a little bit of drama. It also looks good when carried with the optional long shoulder strap, and it's not has heavy as some Céline bags--what's not to like?
The newest size for the Belt Tote Bag will be part of the Celine Cruise 2015 Collection. The new smaller size will only be 1″ smaller in width, which is great since the price point comes in lower in natural calfskin at about €1,150 versus €1,800. Notice the gussets are less prominent on the mini size. The change may just be the second generation of the Belt tote bag; however, the bag is being called the "mini size" at retailers.
That kind of market-bending success is never replicable in perpetuity, and although Céline has sold tons of bags and enjoyed immense popularity in the intervening years, it sometimes feels like everyone's hoping for some more handbags magic. Personally, I'm not sure why that can't come from the Céline Belt Bag, which has many of the elements that have made the brand's bags consumer favorites in the past.
comnum(0) tbcount(0) tbcount(285)
Categories:
Other Brands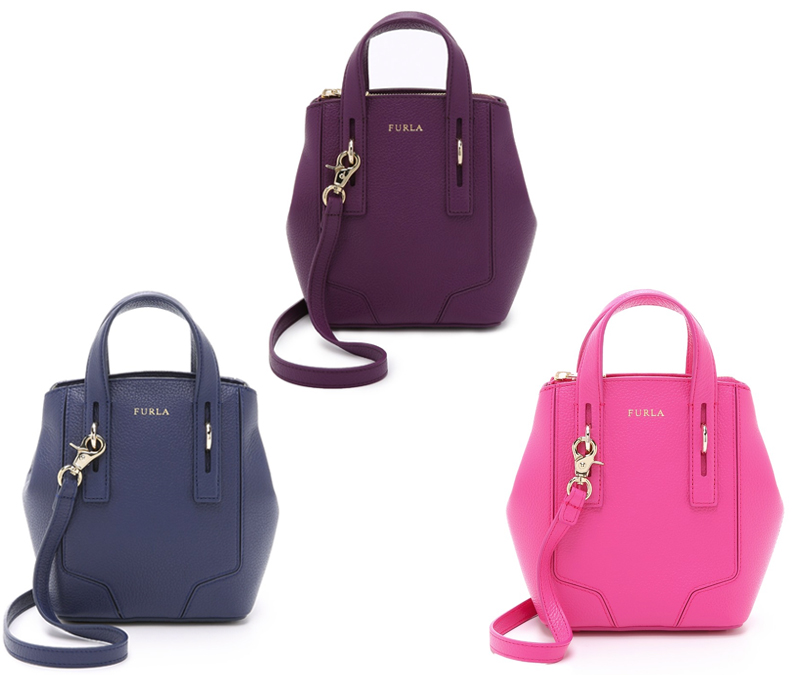 This adorable little bag has such a great shape. It's taken some inspiration from a classic north-south tote and restyled it to irresistibly detailed effects. Tapering towards the top, it's got the same of appeal as a bucket yet it's totally different. Any bigger and you might find yourself losing things; this size is ideal.
It's small, but a small bag is big enough if you don't have young children and all their gear, or you need your tablet with you, or a change of shoes…I could go on. I mean, you know this isn't a bag you're going to live out of, but I'm used to cutting down. I'm all about the bare essentials!
Don't be deceived: the rings the strap clips to are decorative. I like it when hardware serves both a functional and aesthetic purpose, which should always be so. I'm not a fan of extraneous hardware, but I'm willing to let it slide because this bag, in navy, aubergine, or hot pink, is such a great frugal score.
Tags: Tote Mini Crossbody Furla Perla
comnum(0) tbcount(0) tbcount(301)
Categories:
Other Brands
Presenting information on the Celine Tie Tote Bag. This latest tote bag from Celine first appeared during the brand's Winter 2013 Collection. It also appears in the Celine's Spring (Resort) 2014 Collection in fresh new colors. The bag features a flap front which can be tucked in or shown on the exterior. The bag is aptly named by the "knots" or "ties" at the base of the handles. The Celine Tie Tote bag is an updated version of the Celine Phantom bag and coincidentally the Spring collection no longer includes the Phantom in the lineup.

It includes a mini pouch, has an internal zipped pocket and two slip pockets. The flap can be tucked inside the bag, and it has a much larger roomy interior.
The Celine Tie Tote Bag comes in two size: small and mini
It says a lot about a bag when they are invited to come back in every season – the Celine Tie Tote is still fresh, introduced only a year ago, built to last forever and the design is based on what Celine is good at; handbags with flappy wings.

The name 'Tie' is thanks to the knotted handle attachment, an unique accessory in the world of fashion, crafted to match your casual chic outfits and carry it as an everyday bag.

But its not only the design, perhaps we should look more into the details, the minimalistic appeal that make us fall in love with Celine bags over and over again, the impeccable leather that's made to last forever.

For the Fall Winter 2014 Collection, the fashion house introduced some very interesting combination and styles, The Tie Tote in Felt is not only well-priced, but it looks amazing. Obviously, felt is a material that is cheaper than leather, but it's a different experience.
The Celine Tie tote bag has been made available in a mini size for Fall / Winter 2014, complete with unique contrast lining in suede. The mini size comes in a variety of colors such as Tan, Alizarin, Fluo Yellow and many more. This mini size is closer to the Celine Micro Luggage Tote bag at 10" L across and 9"H; however, the smaller version will not include the interior pochette. The first edition of the Celine Tie Tote bag was large measuring over 15" in length. The price at $3,600.00 is likely higher due to the fact that its made of more expensive Palmelato.
comnum(0) tbcount(0) tbcount(260)
Categories:
Other Brands
Established in 1993 as the sister line of the Italian fashion label Prada, Miu Miu's edgy and provocative take on current styles have made the brand a powerful force in its own right. Feminine and sophisticated, yet playful with a rebellious attitude, Miu Miu's collections continue to subvert expectations and experiments with contemporary fashions to create distinctive avant-garde pieces. A Miu Miu shoulder bag epitomizes this clash of influences and innovative designs. Pops of brights, metallic detailing and striking embellishments are symptomatic of the distinctive line. The perfect investment piece.
Miu Miu bags blend contemporary, ornate and eclectic details with luxe materials and high quality to create a covetable range. Using a rich color palette and whimsy flair, Miu Miu's bags mix sleek elegance and tomboy charm to create bold leather totes, fringed shoulder bags and contrast-paneled satchels. For evening occasions, Miu Miu offers an embellished and pared-back range of must-have bags and clutches.
Crafted from floral jacquard with black leather trims and sparkling embellishments, Miu Miu seamlessly bridges the gap between the Old West and vintage glamour. An extravagant crystal-embellished buckle sits proudly at the front as a bold accent to the structured shape of this tote. Note the grosgrain ribbon-wrapped top handle and patent leather sides which give a ladylike finish.
A new bag from Miu Miu that we love, we handpicked this bag because of its sophisticated beauty. Aside from its attractive details, maybe it's the perfect mixture of crystal and floral that caught our attention that's why we are featuring this bag. Ladies, make way for Miu Miu's Crystal Floral Jacquard Tote.
An absolute eye candy, this one is a definite must-have for women who love to play with fashion. Beautifully crafted from floral jacquard with black leather trims and sparkling embellishments, Miu Miu effortlessly and seamlessly brings the fusion of the Old West and vintage glamour.
Now if that's not yet enough for picky ladies, what about the fact that it has an extravagant and fancy crystal-embellished buckle that sits proudly at the front as an eye catching accent to the structured shape of this tote? Also, take note of the grosgrain ribbon-wrapped top handle and patent leather sides, which lends it a ladylike finish.
Made from fabric with calf-leather trim, this beauty of a bag features an adjustable shoulder strap, three internal compartments, internal zipped and slot pockets. So plenty of room. Measures 7.5' x 11' x 6' (H x W x D) inches and is priced $2710 USD, €2200 euro, $21000 HKD, $4010 AUD, £331000 JPY via MyTheresa.
Tags: Miu Tote Crystal Jacquard Floral
Categories

New Posts

Hot Posts

Tag Cloud